Roles and Responsibilities
L.O.V.E empowers young Latinas to make positive life choices that enable them to maximize their full potential. The mentoring program recruits female university students to support, guide, and be a role model to a young Latina for a period of a school year. By becoming part of the young Latina's life, the mentor serves as a guide to help her achieve her academic and personal goals.
Mentor's Role
Take the lead in supporting a young Latina through an ongoing relationship
Serve as a positive role model
Build the relationship by planning and participating in activities together
Strive for mutual respect
Build self-esteem and motivation
Help set goals and work toward accomplishing them
Be a willing listener, encouraging, supportive, patient, flexible, and respectful of individual differences
Mentee's Role
Have a positive attitude and be respectful of mentor
Help set goals and work toward accomplishing them
View mentor as a partner—do not be afraid to ask questions or make mistakes
Commit to participating in activities with mentor
Utilize mentoring relationship by asking productive questions and using listening skills
Communicate openly and honestly with mentor—resolve differences by talking about them
Activities and Expectations
Program Activities
L.O.V.E. is a curriculum-based program that consists of three core components: personal empowerment, study skills, and college access. Each session has its own focus area and theme. Each mentoring session is a collective gathering of mentors and mentees, where participants engage in both group activities and one-to-one interactions, guided by a workshop.
Program Expectations
L.O.V.E.'s mission is to support and empower young Latinas by giving them the skills to achieve their educational, personal, and future professional goals. The mentoring relationship offers a powerful opportunity for both mentor and mentee to learn and grow. In order to take full advantage of the benefits a mentoring relationship can offer mentors and mentees should consider the following:
Attendance at weekly meetings is crucial to developing a sense of familiarity and trust between mentee and mentor.
Make a commitment to creating a successful mentoring relationship. In other words, make the effort to use time spent together in a constructive manner.
Talk about goals and expectations. It is important that mentor and mentee understand what each other hopes to gain from this experience.
As a role model the mentors will guide mentees by providing assistance, suggestions, and feedback.  This may mean providing help for homework, college applications, or suggestions/feedback for long-term or short-term educational or personal goals.
Discussions should not be one-sided. Both mentor and mentee should be careful listeners and actively exercise open, respectful communication.
Discover shared interests, but be respectful of differences. Mentors and mentees may have different ideas about how to reach a goal or solve a problem. This is part of the shared learning experience and should be openly discussed.
Mutual respect is key. Mentors and mentees must make the effort to communicate clearly, honestly, and respectfully in spite of potential differing opinions so that ultimately they can learn from one another.
The Founder
Claudia Espinosa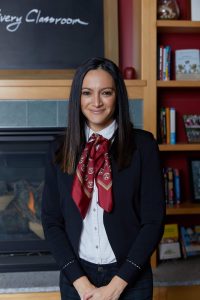 Ms. Espinosa moved to New York in the year 2000 from Cali, Colombia. As an immigrant in NYC she had to work harder to attain her goals because of challenges she faced such as English as a second language. She also became a personal trainer to support herself as a college student. In 2004, she continued her degree in psychology, which she had started in Colombia. In May of 2010, she received her Bachelor's and Master's degrees in Forensic Psychology with Magna Cum Laude honors from the City University of New York.
During her last years of school at CUNY, Ms. Espinosa began working in the nonprofit sector. Before graduating, she spent a year abroad at the University of Paris studying French. Upon her return to New York she began to work for the suicide prevention program, Life is Precious, where she had the opportunity to counsel Latina adolescents who suffered from depression and suicidal ideations.
During the course of her service work she became more aware of the inequalities that marginalized populations, such as immigrants and women, faced every day in the United States and around the world. Her wish to empower others led her to learn about amazing organizations that work to protect and defend human rights. Her experiences in the nonprofit sector helped her understand the disadvantages that her community experiences everyday and gave her the opportunity to create changes that can help Latino families live more positive lives. In 2010, Ms. Espinosa decided to pursue a second degree in public service to further support her community.
In May of 2013, Ms. Espinosa received her second Master's degree in Public Administration with an international specialization from the Robert F. Wagner Graduate School of Public Service at NYU. Ms. Espinosa is currently pursuing the Ed.M. School Leadership Program (SLP) at Harvard Graduate School of Education.
Ms. Espinosa currently devotes her time to her very own brainchild, the Latinas On the Verge of Excellence L.O.V.E. Mentoring Program. She created this program with the goal to support and empower young Latinas to strive in school, and ultimately increase high school graduation rates, college enrollment, and healthy lives among young Latinas. Ms. Espinosa is constantly striving to set new standards of personal, professional, and academic excellence, while never forgetting to honor her Latin roots and giving back to her community. She has always believed in justice and fairness, and that love and compassion need to be part of the practice of justice.