OUR MISSION
The Latinas On the Verge of Excellence - L.O.V.E. Mentoring Program supports and empowers young Latinas to strive for success, both in school and in life, through mentorship and health education targeted at mental, reproductive and physical health as well as college and career readiness.
OUR VISION
The Latinas on the Verge of Excellence - L.O.V.E Mentoring Program believes that women can do absolutely anything they set their minds to.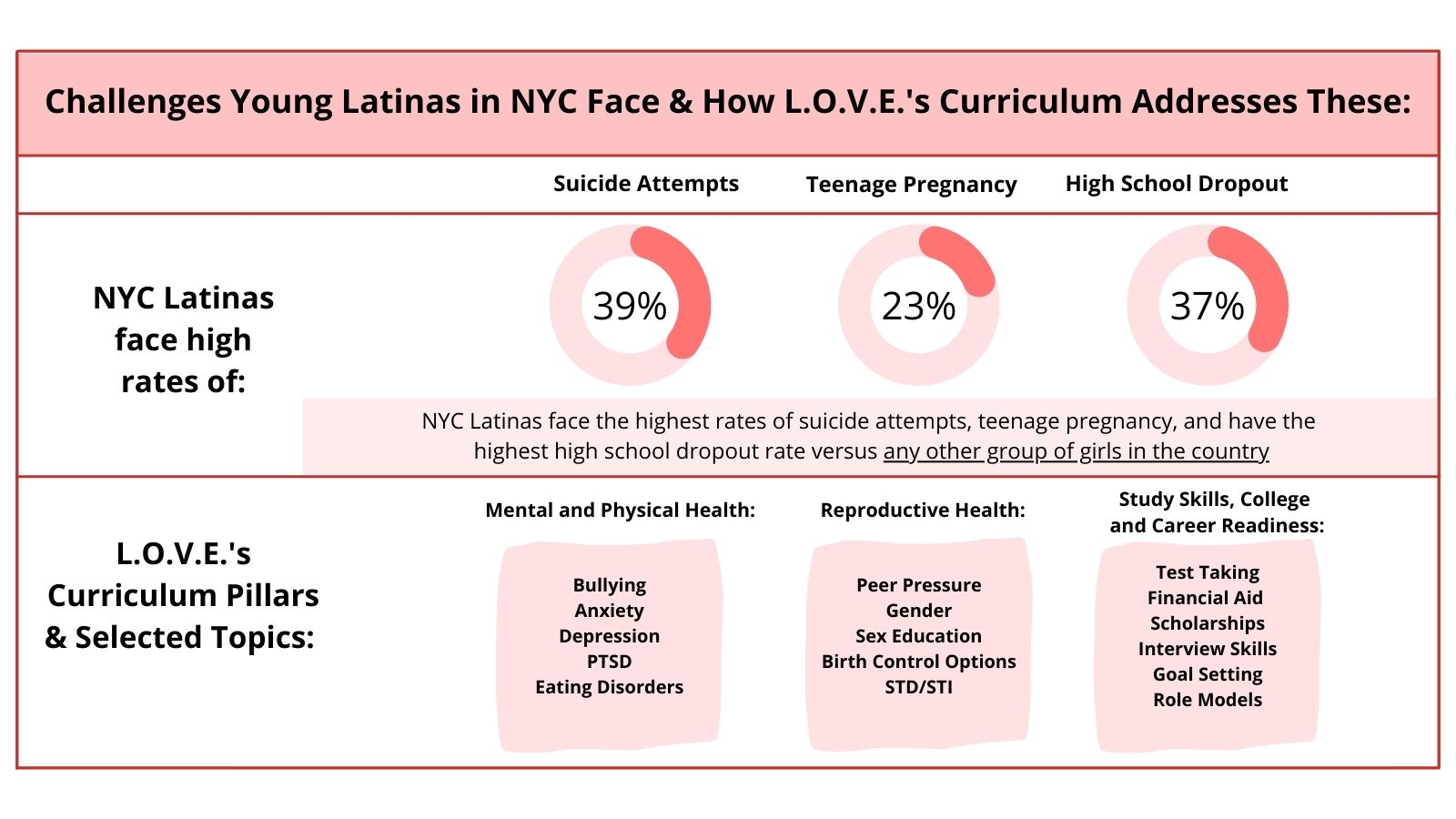 Since its launch, L.O.V.E. has successfully supported young Latinas and young women in general with challenges related to mental and reproductive health as well as low academic performance. During the past ten years, 81.6% of our students have attended the program on a weekly basis. More than 50% of the students we have served have been part of the program for two years or more.
L.O.V.E. provides young Latinas a gateway to lifetime health and success by providing targeted support in the areas of physical, mental and reproductive health in addition to career readiness and mentorship.
The L.O.V.E. Program:
Increases healthy lifestyles among young Latinas and young women in general

Decreases the rates of depression and suicide attempts among young Latinas 

Aids, educates and provides resources to reduce high rates of teen pregnancy in the

Latina community 

Bolsters educational achievement and career success among young Latinas 
In the last decade, L.O.V.E. has served over 2,000 students with activity in 30 separate public schools across NYC.
L.O.V.E.'s goals are to:
Continue to empower and encourage young Latinas and other female students to use their voices to make a difference within their schools, community, and personal lives
Become a required health class in NYC middle and public high schools
Triple the number of mentees we serve each academic year for the next two years
Expand the L.O.V.E. program within communities that have a high percentage of Latino population including:

Washington Heights

South Bronx

Bushwick

Williamsburg

Elmhurst

Jackson Heights

Corona
MENTOR MODEL
The main difference between the L.O.V.E. Mentoring Program and other mentorship programs is our culturally- and linguistically-sensitive approach, rooted in role modeling that comes from individuals who understand the challenges, guidance, and support that the young women we serve need in order to thrive. Our mentors understand and relate to the mentees because they have gone through similar experiences. Our mentees can see themselves reflected in their mentors. Our role-model mentorship strategy, along with our commitment to provide education in areas important for young Latinas and other young women of diverse backgrounds to learn about such as mental health, reproductive health, and college and career readiness has proven to enhance student engagement and academic outcomes. 
HEALTH-BASED CURRICULUM
During the academic year, mentees and mentors participate in weekly, hour-long sessions guided by a health-based curriculum that consists of four core components: mental health, reproductive health, college access, and career readiness. Through a series of structured mentoring and group activities that concentrate on personal empowerment, developing study skills, and college access, L.O.V.E. provides a space where young women can learn how to strive personally and academically through positive reinforcement, consistency and understanding. 
PUBLIC SCHOOL PARTNERS
The L.O.V.E. Mentoring Program works in partnership with organizations, universities, and public schools whose mission is to enhance the well-being of young girls and Hispanic communities in New York. L.O.V.E. continues to develop and cultivate strong relationships with schools' networks including the Student Leadership Network and the Internationals Network for Public Schools within these last ten years. These strong partnerships have allowed us to expand our programs and be able to serve female students in public schools throughout NYC. Additionally, our partnerships have allowed us to closely monitor the personal and academic development of students that have participated in the L.O.V.E. program.